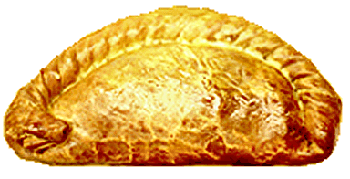 A Typical Cornish Pasty Recipe
Shortcut Pastry:
225 gm. plain flour
115 gm. fat (mixture of lard and butter)
A pinch of salt
The Filling:
225 gm. steak cut into small cubes
2 or 3 large potatoes
1 piece of turnip or swede
1 onion, peeled and chopped
Salt and pepper
The Method:
Sift the flour with the salt, rub in the fat, and mix to a pliable consistency with some water. Leave to rest for half an hour.
Roll out half the pastry into a round about 5 mm. thick (quarter of an inch).
Peel and slice the potatoes thinly onto the center of round to form a base for the rest of the filling.
Slice the turnip thinly over the potato, then spread the beef on top.
Add a little onion, season with salt and pepper.
Dampen the edge of the circle of pastry with water to help seal it. Bring together the edges to make a parcel with the filling in the center.
There should be a neat pastry parcel. If you do get any holes, patch them with a little extra pastry. You can make the pastry neater by crimping the edges. Fold over the edge to make it slightly thicker, then squeeze tightly every 2 cms. to make a neat pattern along the edge.
Put the pastry on a piece of buttered paper, make a small slit on top to let the steam brush the top with a little milk, and put it on a greased baking tray.
Bake it in a pre-heated oven at 200C (gas mark 6) for 30 minutes, reduce the heat to 190C (gas mark 5) and cook another 30 minutes.
You can make the pastry as a starter, by making it smaller. Use a saucer as a template to get the size.
Cornish Pasties (from thefoody.com)
225 g. (8 oz.) blade of beef or rump steak
350 g. (12 oz.) shortcrust pastry
1 medium onion
1 medium potato
1 small turnip
1 beaten egg or milk, to glaze
Salt and black pepper
Preheat oven to 220 degrees centigrade (425 F)(gas 7)
Cut the meat into 1 cm. (1/2 inch) cubes
Cut the potato and turnip into 0.5 cm. (1/4 inch) dice, finely chop the onion
Place the meat, potato, turnip, onion, and seasoning in a bowl, and mix well
Roll out the pastry on a lightly floured surface, each piece to about 15-18 cm. (6-7 inches).
Trim using the edge of a small plate as a template
Divide the filling between each round
Brush the edges with water and fold over the edges of pastry on each
Seal well, creating a fluted edge to the pastry
Place the pastries on a baking tray, flute the edge to the pastry
Brush each of them with beaten egg or milk
Bake for 40-45 minutes, until golden brown
Serve hot or cold
12 Cornish Pasties.
4 cups flour
1 teaspoon salt
2 cups lard
1 cup cold water
3 tablespoons vegetable oil
1 onion, finely diced
5 carrots, diced (optional)
2 rutabagas, diced
1 pound ground beef
1 pound ground pork
10 green onions, chopped
Salt and pepper to taste
1/2 cup butter
2 tablespoons milk
To make crust, place flour and salt in a large bowl. Mix well, then cut in lard until the mixture is crumbly. Stir in water, mixing until dough forms a ball. Allow the dough to rest in the refrigerator while you make filling.
To make filling, heat a large skillet over medium-high heat. Add vegetable oil, then onions. If using carrots and rutabagas, add them now. Saute vegetables until soft, about 10 minutes.
Add ground beef, ground pork, and green onions to skillet. Saute until meat is no longer pink. Add salt and pepper to taste.
Divide dough into 12 portions and roll out each one to fit a 9" pie plate.
Place a pastry circle in a pie pan. Fill one half of the pan with meat filling. Dot with some of the butter or margarine. Pat the edge of the crust with water, then fold over the other half of the crust. Trim the edge, then crimp to seal. Make steam vents in top of the crust. Brush with milk. Repeat process until all of the dough and all of the filling are gone.
Bake at 425 degrees F in preheated oven for 45 minutes, or until crust is golden brown.
6 Cornish Pasties
5 baking potatoes, peeled and sliced
1 onion, chopped
1 cup dried rutabaga
1 pound finely chopped pork
1/4 cup butter
Salt and pepper to taste
2 cloves of garlic, crushed (optional)
Preheat oven to 400 degrees F (200C).
Roll dough into four thin circles. Arrange potatoes, onion, rutabaga, and pork over 1/2 of each dough circle. Dot with butter and season with salt and pepper to taste. Add crushed garlic if desired. Fold dough over the filling; pinch and roll along the edges. Poke a few holes in the top with a fork, and place on a lined cookie sheet.
Bake in the preheated oven for 45 minutes, or until the top is golden brown.
Original Cornish Pasty (Milwaukee Journal, March 28, 1943)
3 cc. flour
1 1/2 sticks butter (cold and cut into bits)
1 1/2 teaspoons salt
6 tablespoons water
In a large bowl, combine flour, butter, and salt. Blend ingredients until well combined, and add water, one tablespoon at a time to form a dough. Toss mixture until it forms a ball. Kneed dough lightly against a smooth surface with the heel of the hand to distribute the fat evenly. Form into a ball, dust with flour, wrap in wax paper, and chill for 30 minutes.
1 pound round steak, coarsely ground
1 pound boneless pork loin, coarsely ground
5 carrots, chopped
2 large onions, chopped
2 potatoes, peeled and chopped
1/2 cc. rutabaga, chopped (can substitute turnip)
2 teaspoons salt
1/2 teaspoon pepper
Combine all ingredients in a large bowl. Divide the dough into 6 pieces, and roll one of the pieces into a 10-inch round on a lightly floured surface. Put 1 1/2 cups of filling on half of the round. Moisten the edges and fold the unfilled half over the filling to enclose it. Pinch the edges together to seal them, and crimp them decoratively with a fork. Transfer the pasty to a lightly buttered baking sheet and cut several slits in the top. Roll out and fill the remaining dough in the same manner. Bake in a preheated 350 degree F oven for 30 minutes. Put one teaspoon of butter through a slit in each pasty, and continue baking for 30 minutes more. Remove from oven, cover with a damp tea towel, and cool for 15 minutes.
Meat Pasty (Cornish Recipes: Old and New)
Ingredients:
1 lb. shortcrust pastry
12 ounces raw mutton or steak
3 tablespoons cold water
6 ounces potatoes
1 small onion, chopped
Seasoning
Instructions:
Make the pastry and roll out to about a quarter of an inch thick. Cut into rounds, using a saucer or a small plate. Cut up the meat into small pieces, rejecting anything inedible, such as gristle, lumps of fat, or bone. Dice the raw potato and finely chop the onion. Mix the meat, onion and potato together very thoroughly, add salt and pepper and about three tablespoonfuls of cold water. Place some of this filling on one half of each circle of pastry, damp the edges of the latter with cold water and fold over to cover the mixture. Press the edges of the pastry together and crimp it with the fingers to seal. Make two or three ventilating slits in the lid, brush with beaten egg or milk if a glaze is required, and place on a baking tray. Cook in a hot oven (450 decrees F) until the pastry is pale brown, then reduce the heat to 350-375 degrees F for about 40 minutes.
English Pasty
Dough: 8 c. spooned flour, 1 lb. lard, 2 teaspoons salt, 2 1/2 c. ice water
Filling: 1 lb. lean beef or flank steak. 3/4 lb. lean pork. 8 small potatoes, 1 small turnip or rutabaga, 3 small onion. Salt and pepper to taste. Butter
Sift flour and salt into a large mixing bowl. Cut in lard with a pastry blender, two knives, or between the fingers until the mixture becomes crumbly. Add ice water gradually to make a soft dough. The less handling the better the crust. Dough may be made ahead of time and placed in a bowl with a damp cloth covering the top. For easier rolling, try this method.
Have a butcher cut meat into small pieces. Peel potatoes, turnip and onion. Chip each into small pieces into separate containers. Cut dough into 12 portions. Roll each separately on a lightly floured pastry board until it is about the size of a dinner plate. Place onion which has been finely chopped onto crust first. Add salt and pepper to onion. Add meat, the potato and turnip, which you may mix together. Add a dab of butter on the top. Bring top portion of crust over. Seal with water on the edges. Crimp and roll edges around the bottom portion. Cut slits in the top. Bake on a lightly greased baking sheet, leaving a little room between pasties for even browning. Bake in preheated 425 degree oven for 45 minutes. Remove from oven and place a clean towel over pasties. Let sit for 10 minutes before serving.
Eleanor Lanyon Pieti
4 cups of flour
1/2 pound of lard
1 small flank steak (1 pound)
3 medium potatoes
Butter
1 tablespoon of salt
1 1/4 cup of ice water
1 small turnip or rutabaga
1 large onion
Salt and pepper, to taste
Sift flour and salt together.
Rub in lard quickly with finger until the mixture is crumbly.
Add water gradually until a soft dough is formed. Do not overmix.
Gather dough together on a floured board using the heel of the hand.
Let stand in the refrigerator for an hour.
Pare and chip vegetables in small slices, and let stand separately in cold water until ready to use.
Cut meat into small cubes.
Cut dough into pieces, the number depending upon the desired size of the pasties. This recipe will make six, rolling the dough the size of a dinner plate.
Flour the board and roll the balled dough into a circle.
First place a thin layer of turnip on the crust.
Add a slightly heavier layer of potatoes.
Next, the meat should be evenly distributed, being sure to place a few pieces at the ends for the corners.
Add a layer of thinly sliced onions, with a few dots of butter.
Salt and pepper to taste.
A green onion may be used instead of the yellow or white, along with a few sprigs of parsley.
If you have access to real kidney suet, the hard, white kind, a thin layer may be added in place of the butter. A few tablespoons added to the dough is also a real Cornish touch.
Bring the top portion of the crust over the bottom and seal with a crimping pastry turn, being sure to cut 3-4 slits in the top to allow steam to escape.
Place on a baking sheet, and bake in a 400 F degree oven for one hour.
Remove from the oven, and let stand for 10 minutes, covered with a clean towel, before serving.
This recipe makes 6 servings. Almost any cut of meat may be used other than round steak, which is too dry. Pork may also be substituted for part of the beef.
Cornigan Pasties
Pastry

1/2 pound lard
1 teaspoon salt
3 1/2 cups flour
1/4 cup water, or more

Filling

1 pound beef chuck
2 large onions
2 large potatoes, cut into quarters and sliced thin
Salt and pepper
Parsley
Grated turnip
Mix the flour and salt, and add water slowly, using just enough water to form a dough that is slightly moist.
Roll the dough into 4 balls.
Roll out each pastry ball to the size of a dinner plate.
For each pastry, on the part of the crust furthest from you, layer a quarter of the potato, meat, onion, and parsley. Add salt and pepper to taste.
Lift the front half of the crust over the filling.
Lift the other half to meet the front and press the edges together.
Crimp the edges tightly to seal in the filling.
Brush the pastry with milk or beaten egg.
Cut a slit at the top, near the crimped edge, to allow steam to escape.
Bake at 350 degrees F for one hour.
Teaplate Pastries
1 pound of plain flour
1/2 pound of lard, hard margarine, or butter
A pinch of salt
Cold water to mix

Rub the fat into the flour but not too finely. Add the salt, then add the water gradually, until it works together into a ball that is not too sticky. Put it aside in a cool place.

3/4 pound beef (not stewing beef)
Large raw potato
1 raw Swede turnip
1 small onion
Salt and pepper
Walnut-sized piece of butter

Cut the steak into small pieces, but don't mince. Slice the potato and the turnip into thin, small pieces, about a half inch across. Chop the onion finely. Dust a work surface with flour. Roll out the pastry to about a quarter-inch thickness. Using a small teaplate, cut out circles. Moisten the edge with water and support half of the pastry nearest to you over the rolling pin. On the other half, put a small layer of prepared vegetables, then a layer of beef. Repeat this once, but be careful not to have too much filling. Sprinkle sparingly with salt and pepper, then add a small bit of the butter. Sprinkle a dusting of flour over the filling. Fold the other half of the pastry which has been resting on the rolling pin and squeeze the half circles firmly together. Starting at the right side, while supporting the left side with your other hand, turn the edge over to form a crimp. Repeat this process all along the edge. You must have a good seal. Brush the pasty with a beaten egg to help with the browning process, and put a small one-ince cut in the center of the top of the pasty to allow steam to escape. Bake in a hot oven at 220 degrees Centigrade (425F) for about 20 minutes. Reduce the temperature to 160 degrees Centrigrade (325F), and cook for another 40 minutes.
Traditional Cornish Filling
Diced lean beef, known as a skirt in Cornwall
Potato, sliced finely
Turnip, sliced finely
Onion, quantity according to taste
Copyright(c) 2002, 2003, 2004 Ken Anderson. All rights reserved.
kenanderson@kenanderson.net